About Us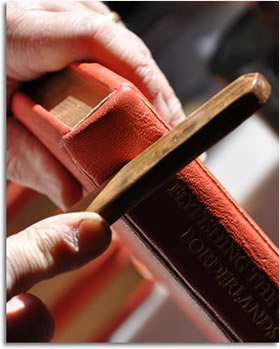 Ludlow bookbinders are steeped in the finest traditions of English Craft Bookbinding.
We produce short run, leather or cloth bound books, for bespoke limited editions, complete with slipcases or Solander boxes.
Our papers are sourced from Nepal, Japan, Italy, France, and Germany, and we use the finest of English hand-marbled papers.
We have an astonishing array of leathers and book cloths, from all over the world, and can create and advise on the widest range of colour and material combinations.
In addition, we offer edge gilding and foil blocking 'in house' and have access to craftsmen across the country, from silversmiths and engravers, to foredge painters and book designers.
Our award winning design team will work with you to produce a stunning book that reflects your personality and that of the author or organisation.
We also offer repairs: invisibly, seamlessly and to the highest museum grade standards and rebinds, for those treasured tomes.
It is our belief that our hand bound books, properly looked after, will last for generations and there's not much, made now, that will do that!
---